ACCESSORIES
wondering how you run all your vehicle accessories off a portable box while still having the option to simply unplug? we at ACE have the solution, our custom lithium boxes can come equipped with a "plug and play" harness, with a built in wireless control box simply plug in your accessories, LED lighting, fridges and operate them from the comfort of your campfire with a wireless 4 button key fob, a small and versatile key ring that operates from up to 50m away.
STARTING FROM $499
request a customised quote today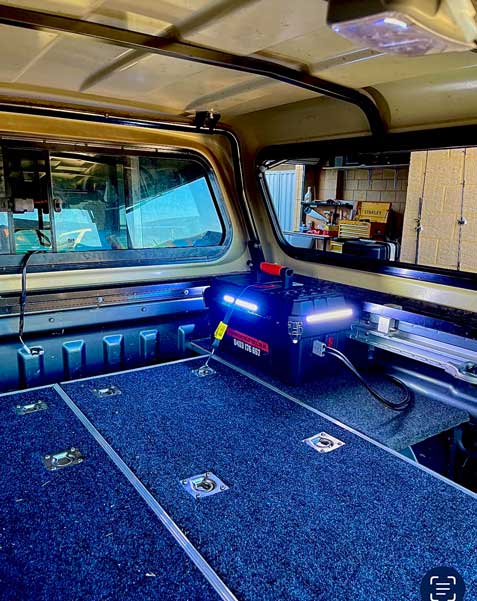 OPTIONS
100AH/120AH LITHIUM BATTERY
10AMP/20AMP LITHIUM DCDC CHARGER
SOLAR PANEL INLET
ENGLE/FRIDGE PLUGS
USB SOCKETS
WIRELESS CHARGER
HEAVY ANDERSON OUTLET
BATTERY MONITOR
BLUETOOTH BATTERY MONITORING
WIRELESS PLUG & PLAY ACCESSORY OUTPUT
LITHIUM BATTERIES
all our custom lithium boxes are fit with quality ATG lithium batteries, designed in Australia for Australian conditions, equipped with a 100AMP BMS rest easy knowing your battery box can run any accessory with ease, whether it be 2 fridges or a high current compressor.
ATG lithium batteries can be used in a wide array of installations including caravan systems, off-grid systems capable of running a 3000 watt inverter to power all your heavy duty appliances and air conditioning
120ah ATG LiFePO4 battery - $799
3 YEAR WARRANTY
A GRADE CELLS
AUSTRALIAN DESIGNED
100AMP JAIBAIDA BMS
FIRE RETARDANT RUBBER TO PROTECT FROM VIBRATION
100ah ATG LiFePO4 battery - $579.95
3 YEAR WARRANTY
A GRADE CELLS
AUSTRALIAN DESIGNED
100AMP JAIBAIDA BMS
FIRE RETARDANT RUBBER TO PROTECT FROM VIBRATION
150ah ATG LiFePO4 battery - $949
3 YEAR WARRANTY
A GRADE CELLS
AUSTRALIAN DESIGNED
200AMP JAIBAIDA BMS
FIRE RETARDANT RUBBER TO PROTECT FROM VIBRATION
200ah ATG LiFePO4 battery - $1199
3 YEAR WARRANTY
A GRADE CELLS
AUSTRALIAN DESIGNED
200AMP JAIBAIDA BMS
FIRE RETARDANT RUBBER TO PROTECT FROM VIBRATION
300ah ATG LiFePO4 battery - $1799
3 YEAR WARRANTY
A GRADE CELLS
AUSTRALIAN DESIGNED
250AMP JAIBAIDA BMS
FIRE RETARDANT RUBBER TO PROTECT FROM VIBRATION
Quick Quote