Electrical Brake Controllers Supply & Install
To put it simply - a brake controller is one electronic device which triggers on and control the electric brakes of your camper trailer, caravan, boat trailer and so on. These electric brake controllers guarantee your safety as that of others whenever you look to tow your camper, car, boat trailer, caravan, etc.
In Accordance to Australian legislation-
Trailers of GTM (gross trailer mass) over 750 kg must have brakes.
Trailers of GTM over 750 kg and not exceeding 2000 kg must have braking on the wheels of at least one axle.
For a GTM of over 2000kg braking on all wheels is required.
Over-ride brakes may be used on trailers of GTM up to and including 2000 kg.
Trailers of GTM over 2000 kg must have brakes operated from the driver's seated position.

Such trailers ought to feature a breakaway system via which the brakes automatically apply whenever the trailer becomes separated from the towing 4wd.

Moreover, such electrical trailer brakes have to be connected to the towing vehicle power source and aptly regulated courtesy a quality and efficient electric brake controller.

Speak To Our Team If You Have A Requirement.
Looking to purchase a new caravan or get your new vehicle ready for towing?
The experts at ACE will get you going in no time, we fit a wide range of towing accessories including electric brakes, reverese monitor systems to car and van, 12 pin plugs, andersons, esc..
We Also Cater To Professional Trailer Plug Supply & Installation
When browsing through the market; you will come across a wide variety of trailer plugs for your caravans all across Australia.
And the whole purpose of this trailer plug is primarily to transmit the power to the electrical brake system and lighting system of the towing vehicle (be it your trailer, camper and caravan).
The Commonest Available Trailer Plugs in Australia Includes -
▶ The 7 Pin Trailer Plug - They are mainly used on late model vehicles. They appear to be small round 7 pin flat trailer plug mainly appropriate for trucks and heavy-duty machinery. This is typically the primary choice for passenger cars particularly during basic towing. And they are used to connect the following aspects between your towed vehicle and car.
✓ Left-Hand Turn
✓ Reversing or Auxiliary Signal
✓ Earth Return
✓ Right-Hand Turn
✓ Service Brakes
✓ Stop Lamps
✓ Rear Lamps, Clearance
✓ And Side Marker Lamps

▶ The 12 Pin Trailer Plug - They typically perform similar functions as to the 7 pin trailer plug along with the ability to wire accessories.
▶ The Anderson Trailer Plug - As explained before is mainly used to charge the trailer or caravan battery especially while driving. This denotes traditional box trailers, small boat trailers and situations where no such auto electrical accessories are required besides the brake/ rear and indicator lights.
 Upon request; we can help you pick the appropriate trailer plug for your 4wd vehicle and install it properly to assure safety on your next road expedition.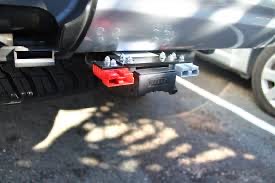 Our range includes the best rear vision camera kits for Caravans, RV, and Motorhomes
When looking at a reversing camera system for your Caravan, Motorhome or RV, we would always recommend the following:
√ The monitor is 12-24v and is easily removed from the vehicle mount for security
√ The monitor has a sunshield for improved vision in bright conditions
√ The monitor extension cabling allows flexibility to ensure you can place it in the best location for your vehicle.
√ The camera has a waterproofing class of IP67 or higher with audio and infrared for night vision.
√ The cables are fully waterproofed and sealed with industry standard, screw-in 4 pin connections (used by over 90% of the industry)
√ Dust caps are supplied for cable protection
√ 2 year new for old replacement warranty
√ Australian based support